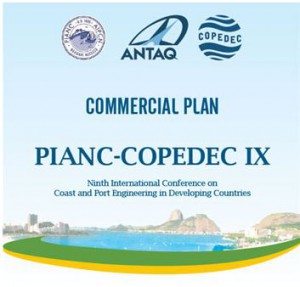 It is extremely heartening to see that the quadrennial Conference on Coastal and Port Engineering in Developing Countries (COPEDEC) in its 9th edition is to be held again in Rio de Janeiro from 16 to 21 of October 2016.
The merger between the World Association for Waterborne Transport Infrastructure (PIANC) and COPEDEC offers an excellent opportunity for professionals in the coastal, port and navigation businesses to meet.
We believe that the economic recovery, along with the potential infrastructure growth in Brazil due to the expansion of port, coastal and inland waterway facilities, in addition to the intensity of engineering activities will make experts from all over the world attend this edition of the Conference.
I invite everyone to join us in making PIANC – COPEDEC IX a great and pleasant event.
Mr. Mario Povia
Director-General of ANTAQ
For more information see: conference website